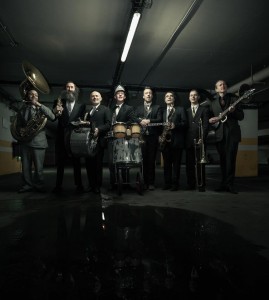 Fanfare officielle et unique du Pigswana, contribuent au bien-être général depuis une bonne décennie avec une fougue passionnée, un humour débridé et ce tout en conservant un certain standing.
On dit que de leur magnifique et vigoureuse prestation se dégage un assemblage musico-olfacto-visuel troublant, salué maintes fois par la critique unanime quoique perplexe.
Dans leur show « SANS GROIN NI TROMPETTE », c'est tiré à quatre épingles, fraîchement gominés (pour ceux qui ont encore des cheveux), vêtus de leurs plus beaux smokings, chaussures cirées, cravatés ou nœuds-papillonnés qu'ils se produisent afin de mieux faire découvrir et apprécier les mélopées étonnantes et les chorégraphies épatantes du PIGSWANA.
The GIPSY PIGS are Pigswana's official brass band. For the past decade, they have contributed to the worlds well being with their passionate hearts and unbridled sense of humour.
Their vigorous performances tickle the musical, visual and olfactory senses, which has bought unanimous support even from the most baffled of critics.
In their show 'Neither Snout nor trumpet', they perform immaculatly dressed: slicked-back hair (for those who still have some), the finest tuxedos, polished shoes, ties and bow ties. The unique melodies and energetic choreography of the Gypsy Pigs contrasted with this some what reserved attire, is a treat, a shock, and most of all, a delight for all those fortunate enough to experience the music of the Gypsy Pigs.